Ambassdor
To be an ambassdor and to become an ambassador . The Panikschlaufe in black sparkle is exclusively reserved for ambassdors only. You can not buy this color. In the following amabassdors and tests will be presented.

You think you can be an ambassdor? Contact me via mail: neele@panikschlaufe.de. Present yourself in the best possible way and show me why you should be an ambassador. Some pictures would be really nice, too.
Reitsport SPC
- Amabassador Report -
translated from German
"It's time for the Panikschlaufe!

Who does not know that – once inattentive and your darling is on the ropes.
The rope cracks, eventually the halter too. Darling accelerates and is gone for some time;
Independently from that your loved 500 / 600 kg can get some serious neck blockades and injuries.
That's exactly what the Panikschlaufe prevents. Yesterday it was putting the rope directly between the wall and the halter – now you have to put the Panikschlaufe in between. Just then comes your darling.

Darling hangs himself when scared, young and unexperienced or just because it is an old routine. The Panikschlaufe opens fast like an arrow and the spook is over. The Panikschlaufe is a kind of predetermined breaking point, which in the end also enormously reduces the waste of ropes and halters.

What? You can not imagine why a horse would or should do that?

Well, Janine Weber from Reitsport SPC can tell a small story. She has put the Panikschlaufe through their paces. She is going to tell the inside story."

Your are interested in Janine's tellings? Follow the link to Rider Deluxe the Blog of Reitsport SPC

Picture: Jurina Zwirner Fotografie
Pferdeflüsterei
translated from German
"Imagine, your horse is scared and wants to run away in its panic. If you can not react quickly, it can hurt itself the bursa or the neck through the pressure of the halter. It can happen even worse things. If you have to open a knot at this moment, it may take too much time.
Therefore we think the Panikschlaufe is genious. You just put it on the halter and tie your horse. Like a link between Halter and rope. Through the hook-and-loop-fastener it hold really good, if your horse ties - with a small pull you can open the Panikschlaufe in a millsecond.. Clever, simple and sophisticated!
The Panikschlaufe is "Made In Germany" from wonderful Neele, who also is the inventor. It is handmade. It is made from highquality and tearproof 30mm belt strap and industrial hook-and-loop-fastener."

Foto: Pferdeflüsterei
@sandro_dressurhaflinger
- Botschafterbericht -

translated from German
"You can get the Panikschlaufe in many different colors.
For Estela it is a safe solution, because Estela destroys halters and ropes from time to time. If the lady is distracted again, she pulls the reverse gear - for the amusement of the rope.
Since using the Panikschlaufe I can not happen anymore. In this case it opens and the rope stays safe.
A great investment especially for young horses!"
translated from German
"Awesome product, for god's sake it never had to be used yet. Only useful saftey system to me!"
@fabienneschillinger
translated from
German
"I bought it for my horse and I am excited! My fraidy-cat-horse hangs quickly in his ropes. Now it is not going to happen anymore, because the Panikschlaufe will open. I can tie my horse finally. Thanks for that invention.
@xo_chrissi
translated from German
"Meanwhile I own two und I am very satisfied with them. I was not able to tie my gelding, since I am using the Panikschlaufe there is no problem anymore. If something is happening, the Panikschlaufe opens reliably, because of that he finally trusted being tied. Now he stands neatly tied. Especially I have a good feeling to know that nothing can happen."
@lady_foxx_and_mr_brown
translated from German
"The Panikschlaufe is a great product! You can tell that someone has really thought about it. Simple, and so helpful in everyday life with the horses! The loops can safely prevent many accidents. Keep it up!"
@coco673ricco
translated from German
"These words are 1000% true! I have had an incident where the Panikschlaufe was tested. And what should I say? Does what it promises!"
@julia30055
@mylittlelifewithsissi
- Ambassador Report -

Translated from German
"It is a loop that is attached between the rope and the ring (halter or tie ring) and loosens when the horse panic. (Say, leaning against it with appropriate violence). They can also be opened by hand. The Panikschlaufe always accompanies me when I clean my horse. I have a preference for ropes with carabiners (for guiding because they don't open by themselves) and since then I don't have to change the rope every time to tie, but simply buckle the Panikschlaufe in between. So if you have a young horse, a horse that breaks loose or hangs up at the tie-in place, then you should invest the 20 € and get such a loop. I'm really behind the Panikschlaufe because it really is for safety."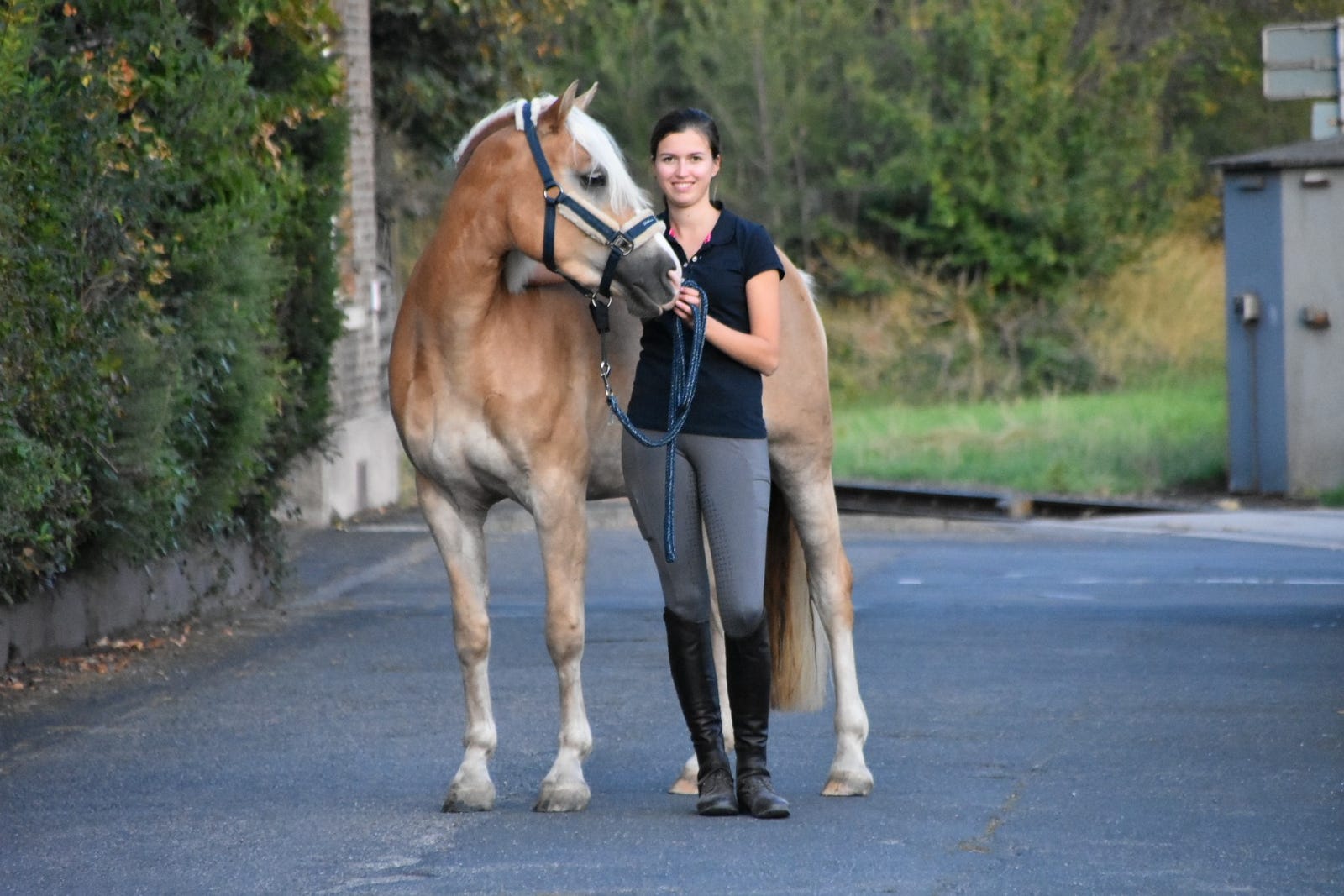 "So Dexter tested it on Sunday and I was really excited. Since I was just about to close his hoof boots, I can't say exactly what it was, whether he was frightened or if he was scared of a fly off his stomach with great swing. In any case, that could have been another panic situation for him. But it wasn't. He hopped back a step, the loop opened and he stood there relaxed. Immediately afterwards I pulled him back up and reattached the loop. And he stood without stress. It would never have been possible to tie it back before. If I want to open the loop because I notice it could get tricky, I can do it with one finger. I am absolutely convinced of it and it will definitely not be the last Panikschlaufe be."
@dexter_will_wanderreiten
"I would like to thank you for the friendly advice today. We are absolutely thrilled with the loop! Thank you very much for being there and for really thinking about a very useful product. Chagall and I will always use it."
@grey_chagall


I really ALWAYS use it when I tie him up. When cleaning and especially when showering! Luckily it really worked when he hung in."
@elduradero
@rianundanja
- Ambassador Report -
"Which three items could you no longer do without in the stable? For me these are these three: the helmet, the Panikschlaufe and the EquiGloss. [...]
The Panikschlaufe simply because I learned to ride a horse that was tied to a rope because the halter broke in one stupid moment. As a result, his face was paralyzed on one side. Better to be sure of getting the horse free in an emergency than to have something like that to happen. It can happen sometimes so fast that the horse is frightened and as soon as the carabiner is pulled, you normally have no chance of getting the horse free, with the Panikschlaufe it always works."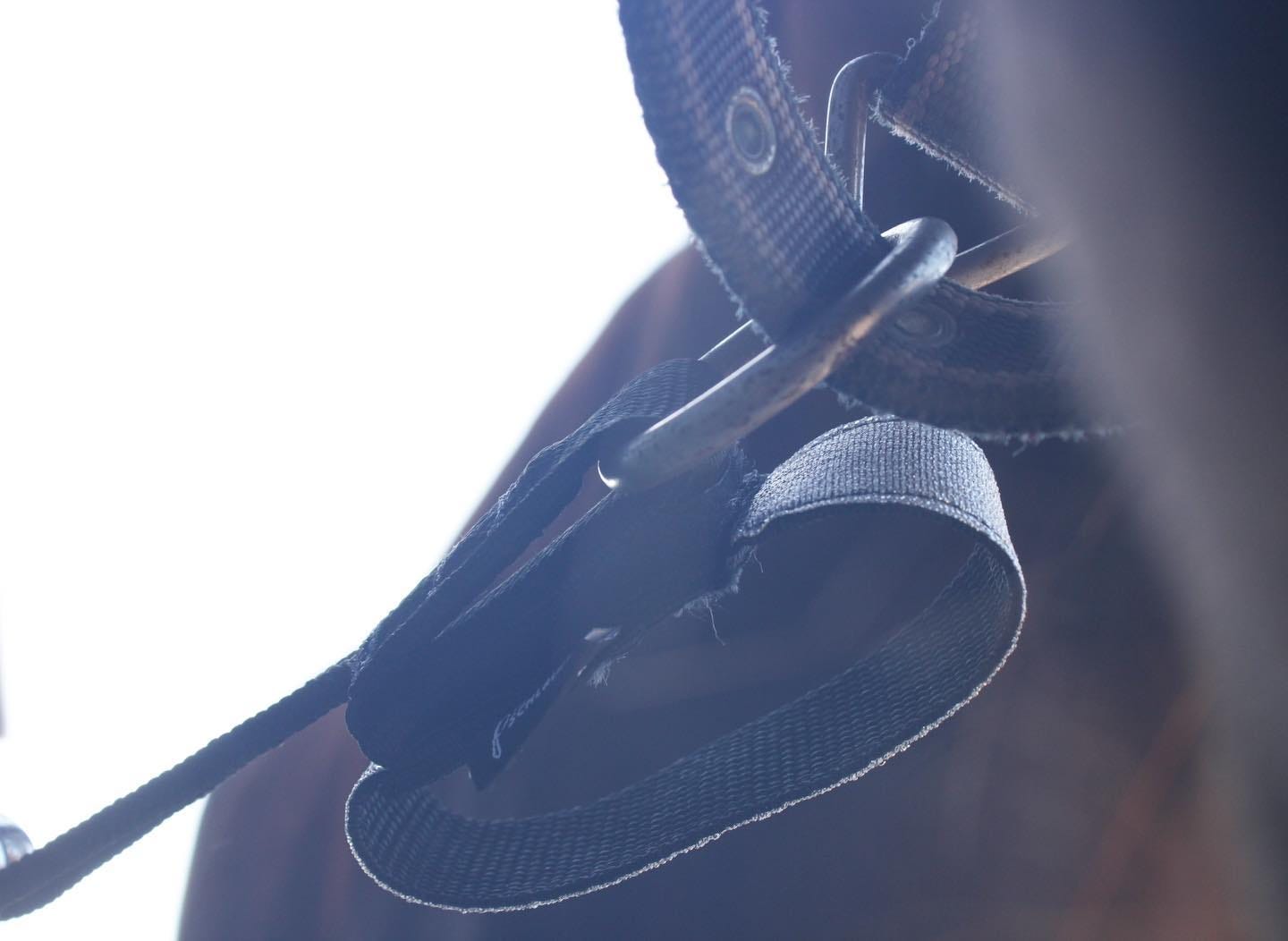 "The secure tying in the stable or on the trailer, a must-have for everyone"
Team Knallköm
@konik_romeo
"My product of the month for December. Today I would like to introduce you to the Panikschlaufe, simply because I am very convinced of it myself. I use the Panikschlaufe when I tie Romeo. If Romeo is frightened and jumps backwards, the Panikschlaufe automatically loosens so that he cannot get caught and neither rope nor halter are damaged. Since I had the Panikschlaufe, I no longer tie Romeo without it. Before that, I was very unsure about tying up, as Romeo is still very young and I was initially unsure how well he would stop. The Panikschlaufe came just in time. It does exactly what it should. Doesn't work when Romeo is fidgeting, only in difficult situations. Fortunately, I only had that once, but everything went well there too."
Tie up horses securely

"I love her by the way! It really makes my cleaning time easier and I'm much more relaxed."
@anisha_ginger

Foto links: daffnique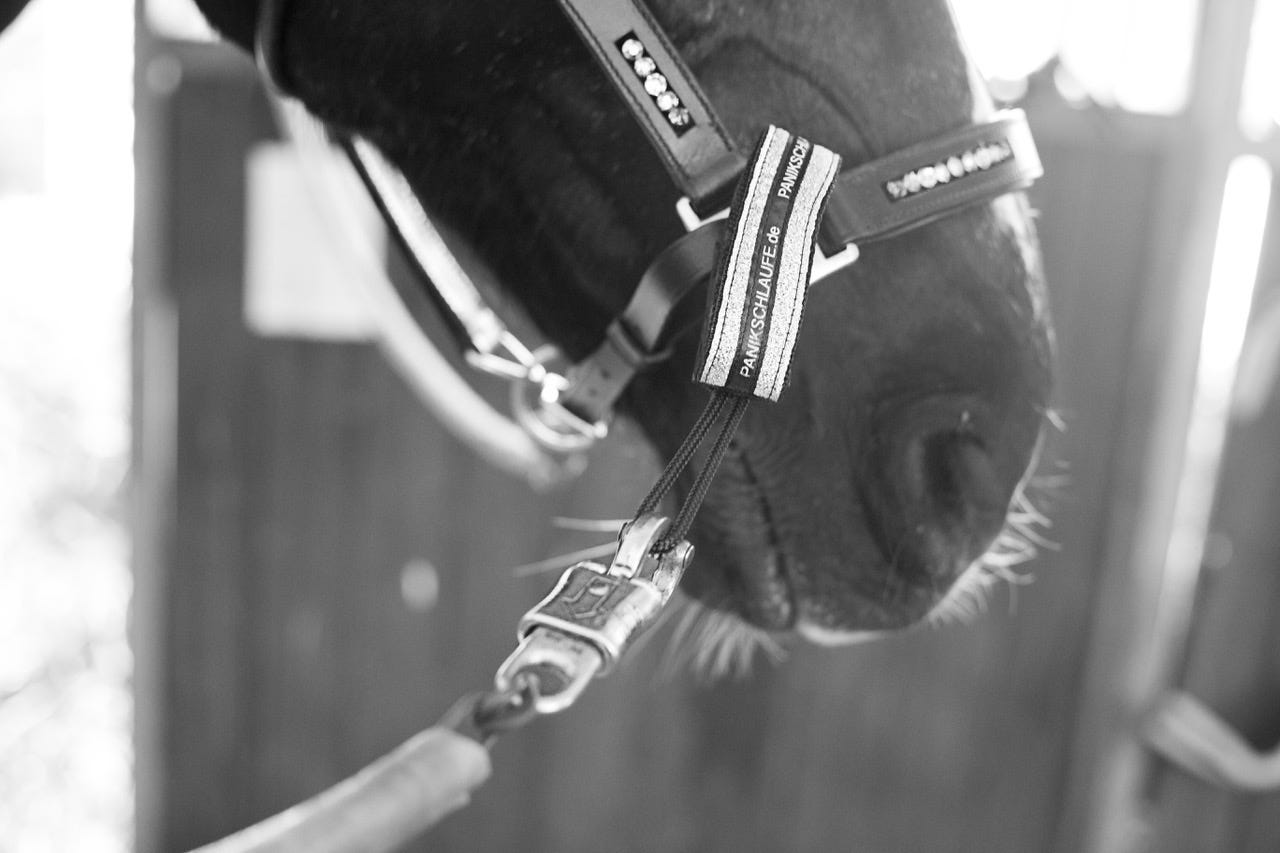 @danahorsemanship
"I love your Panikschlaufe! I can't say it enough. Just yesterday I realized it again. We have now mostly equipped our tether with loops so that all horses can be tied to it.
Yesterday evening we stood there with two horses. Then a breath of wind, which had blown away my saddle cover, came towards the horses. Both panicked, jerked their heads up and were immediately free after a short jerk.
Simply a brilliant invention! I cannot say it enough. Since I got the Panikschlaufe, I can finally tie it up again without worrying about anything happening. "
@Daffnique
- Ambassador Report -

"I am thrilled with the Panikschlaufe. This product represents a huge step forward in terms of horse safety. I don not want to miss the Panikschlaufe in my equipment. For me it has become a must-have in the stable lane Horses can benefit from the panic loop. If they panic, the loop loosens. I give them a big thumbs up. "


Foto oben: Daffnique
"With a special hook-and-loop system, the Panikschlaufe reduces the risk of injury. If there is too much pressure, the Panikschlaufe opens by itself. A separate loop allows the hook-and-loop system to be opened manually. [...] We say safety first and convince yourself."
@Team Knallköm
"In normal use, the hook-and-loop holds wonderfully so that the loop doesn't open at the slightest pull.
I think the Panikschlaufe is a great invention of yours and I am happy that I bought it! [...] Please don't stop inventing such great things!"
@Jannie
"[...] My Tinker mare is 9 years old and a direct import from Ireland. Unfortunately, we don't know what exactly she experienced there. In essence, she is a great horse with a great character, but just at the beginning (bought in December 2016) She was the halter and knit "killer". Not a week went by where she left one of the two completely. Halters and cords are replaceable. The panic the lady always had as soon as the neck was pulled, however, remained.
It took a long time to find out. Occasionally it still falls into this pattern, but we're talking about 2 halters and 2 ropes a year. Which is really humane for the mouse. We have been actively using the Panikschlaufe in royal blue for about 2 months. We already had one or the other dicey situation in which the Panikschlaufe really saved my halter and rope. It is very stable and easy to attach. I am fully convinced [...]"
@Lady - Das Puschelfußpony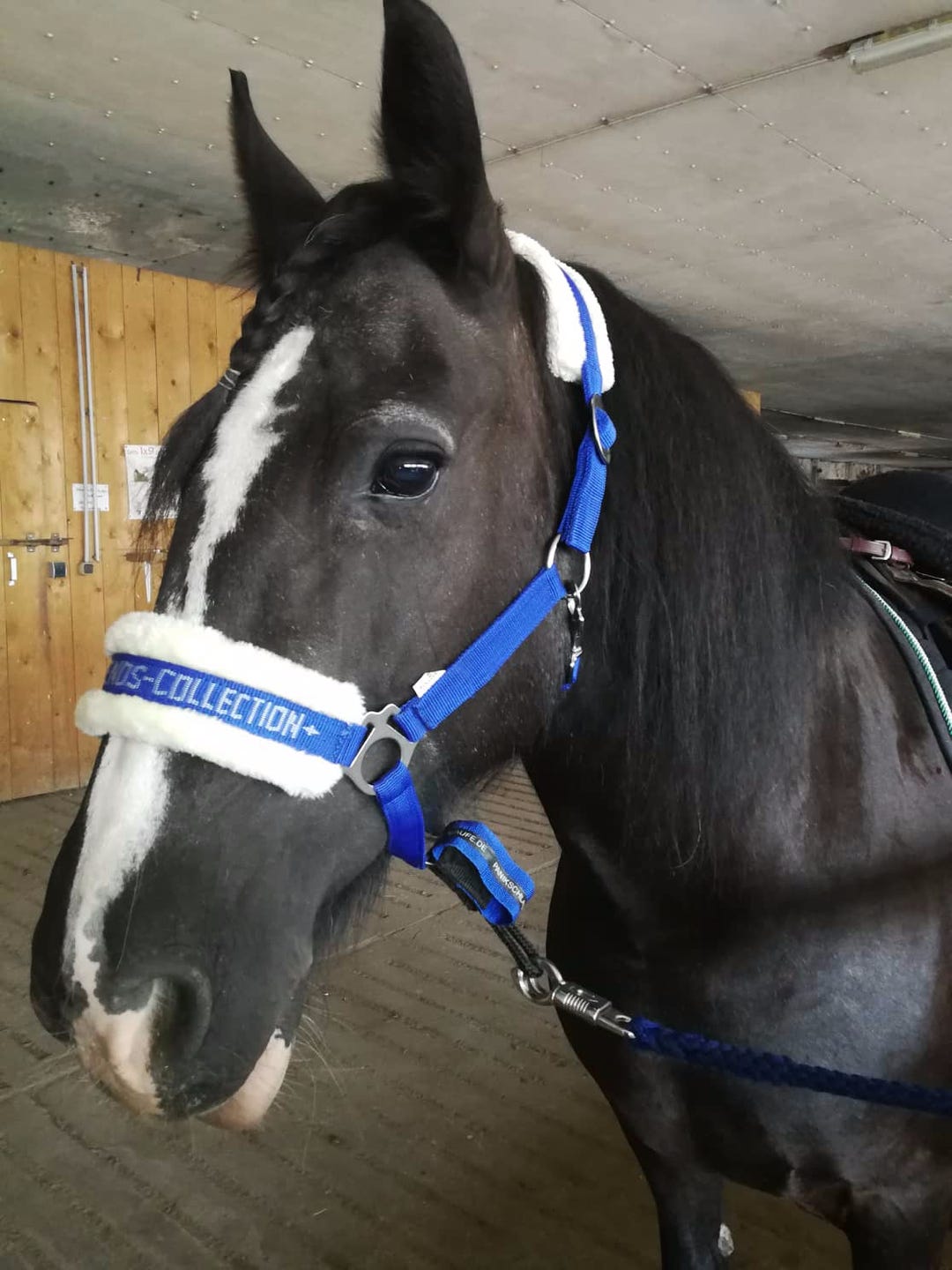 "It is in constant use and lasts and lasts and lasts."
@Lady - Das Puschelfußpony
Picture to the left: Lady - Das Puschelfußpony
"I've been using the Panikschlaufe for a while now and I'm absolutely thrilled with the product. The workmanship is very solid, if you could keep this standard it would be great, and the functionality is as simple as it is ingenious. It is absolutely reliable and can be opened in a fraction of a second."
@Annika Finke
"The Panikschlaufe has been one of our most important items of equipment for a few months! We are super satisfied! Simply gentler and safer when the horses throw themselves back while cleaning. Panikschlaufe, keep it up! "
@bianca_family_horse
"Eumel also tends to throw himself back in unknown moments. I have the Panikschlaufe between the halter and the rope. The horse can still be such an artist - they don't get to play. And when they throw themselves back, you can easily open the Panikschlaufe. But it does not open with a small pull like many other "safety things". "
@er.und.sonst.keiner
Ambassador Stefanie and Anderl
"Andaluz de Altajara, or also called Anderl, is the beautiful horse by my side. We met two years ago and have stood for each other ever since. First I was allowed to show him that you don't have to be afraid of people, now shows he tells me every day how beautiful the world is with a horse. Our strengths are ground and free work. But we are slowly finding ourselves again in dressage. He is an all-rounder, you can always rely on him! A good soul, intelligent and strong character, a horse that would go through fire for anyone. "

Picture : Stephanie Rach
- Ambassador Report -
"Test report - when panic occurs

We have tested it extensively, the Panikschlaufe! Anderl is really not a tethering professional; it likes to get caught in such a way that the panic hook is ineffective or even frees itself if you tie it too carefully. What helps against it? So far I have helped myself with tying ropes for the trailer, but all of this is more bad than right, an emergency solution. And now?

The solution for us is called the Panikschlaufe. About the product: The Panikschlaufe consists of three chambers sewn together - one of them can be opened and closed again to a ring with a hook-and-loop fastener, the black thin ring is for tying up the horse and then there is the large colorful loop. Everything is well sewn and shows high quality workmanship.

How does it work? When the horse is tied up and it can get frightened
1) tear itself loose with the loop or loosen the panic hook on the halter. This only works if the horse really panics and develops traction and strength. Anderl is too cautious in standard situations (of course we didn't test with real panic, because you can surpass yourself). But I think that in an absolute emergency the loop would not be a barrier for him. "
2) If the horse pulls the loop but does not come loose (e.g. the head gets tangled in the rope). It would be dangerous to approach the panicked horse and release the panic hook on the halter. Everyone knows what can happen there! It is safer to just pull the colorful loop and zack! The escape animal is free. For us the optimal solution and definitely easier and safer to use than all other panic aids, even under great pull!
CONCLUSION: In the future we will use a panic hook on the halter and the Panikschlaufe for tying up. So I can calmly let my horse stand for two minutes, as nothing can happen anymore!
Also great: the Panikschlaufe can be taken anywhere. So you are prepared for all eventualities!
Thank you Neele, we love your product! "@Andaluz_de_Altajara
Picture to the left: Stephanie Rach
"One of the most important principles for me is that the ponies can be tied up stress-free. Even if we work without being tied up in everyday life (the ponies are always free when cleaning, for example), this is a core competence: at the latest during the first trailer ride tieing up is necessary for security reasons.
I am always amazed how some people deal with it. I often see that the horses are simply tied to the tie ring. If they panic or pull the rope, they are simply left to the situation - until they have "got used" to it. For me it has the same quality as cowboys who used to just throw a saddle on a young horse and wait. until it no longer humps. I don't want to put my horse in a situation in which it no longer sees a way out. And that's why being tied up and standing still will be trained. I personally train with the clicker. And now there is a great training tool for it. Do you know the Panikschlaufe? [...] With the Panikschlaufe you do not have to untie the knot, the horse loosens it very quickly. In the pictures you can see how to attach the panic loop to the halter [when not in use]. "
@Team Shettysport
"As a trainer specializing in horse behavior therapy, I get a lot of strange horses into the business and I never know exactly how they will behave when they are tied up, so with the Panikschlaufe I have found the perfect way to ensure the greatest possible safety before trauma occurs. For me, that's passive behavior therapy. Thank you Neele for your great ideas that make the horse world so much nicer! "
Take a look around our website and find out who we are, what we do and how we can help you. Nice to have you here.
@pferdestaerkenjulianessler
"The Panikschlaufe - a blessing for my beloved halters, my health and my horse.

Vodka already has a few ropes, tie rings and holsters on its conscience. Last year I found out that the whole thing is not always safe.

Vodka was frightened - hung himself in the halter - the panic hook snapped - the end of the rope flew through the air with pressure and landed right on the back of my hand.

End of the story: 5th metacarpal broken, bones threatened to tip over and the worst: 4 weeks before my final written exam. So I went under the knife, wires in and out again. After an unbearable 10 weeks, I got back on the horse. "

@ViktoriaundWodka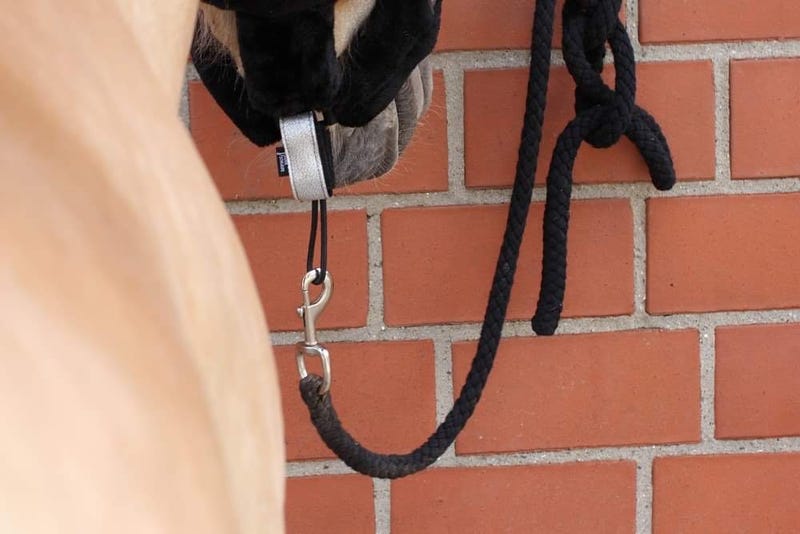 "Before I had Allie, I never thought about tieing security very much. Sure, we all know the famous knot, but Paula, Fussel and Sanni always stood quietly at the cleaning area and I never had to worry. Everything is different with Allie. She developed a talent for hanging herself early on. Despite training it happens again and again and every damn time I got neither knots nor panic hooks open. So something else had to be found.
I got on the Panikschlaufe and ordered one. And honestly? It was the best investment in a long time. Promptly at the first test, Madame hung herself in her halter and the loop opened! In case of doubt, a grip in the loop is enough and the horse is loose. Absolutely great, honestly! I only tie Allie with it, also in the trailer. I can warmly recommend you. "
@hafi_paula
Background picture: hafi_paula
"Unfortunately, Highlight has hung herself up at the cleaning area at the new stable several times in the past few weeks, a behavior that we don't know from her at all. These situations usually occurred when other horses came too close to her - her claustrophobia apparently comes through again after all. Then it's time to react quickly and open the panic snap. But what to do when the hook is so pressurized that it cannot be opened in the first place? Grabbing the rope at this point is very dangerous because there is a risk of getting your fingers tangled and that can end badly. Since the elastic halter is not an optimal solution either, because Highlight is then completely free as soon as it comes loose, we started to research and quickly became aware of Neele and her handmade (!) Innovation, the Panikschlaufe. Of course, the glitter design immediately won us over. After all, what could be better than practical safety accessories that also look beautiful and glitter?
The Panikschlaufe is divided into two parts: a stable rope eyelet and a double eyelet, which is held together by a strong Hook-and-Loop fastener. The end of the rope is attached to the closed eyelet, the other side is attached to the tie ring. In a panic situation, you can easily open the rope with a targeted grip in the double eyelet with hook-and-loop, without the risk of your fingers getting tangled. "
@outstandinghighlight
Panikschlaufe - safer tying
"Never again without my Panikschlaufe! Today the farrier was there and I'm just really glad that I have my Panikschlaufe. Actually nothing bad has happened at all, Quitschi was just scared of a noise. She just wanted to run straight away and hung herself on the rope. But at that very moment, the loop opened and prevented Quitschi from slipping and possibly even falling. So everything went well again. "
@kristin_equi_life

Picture to the left: hafi_paula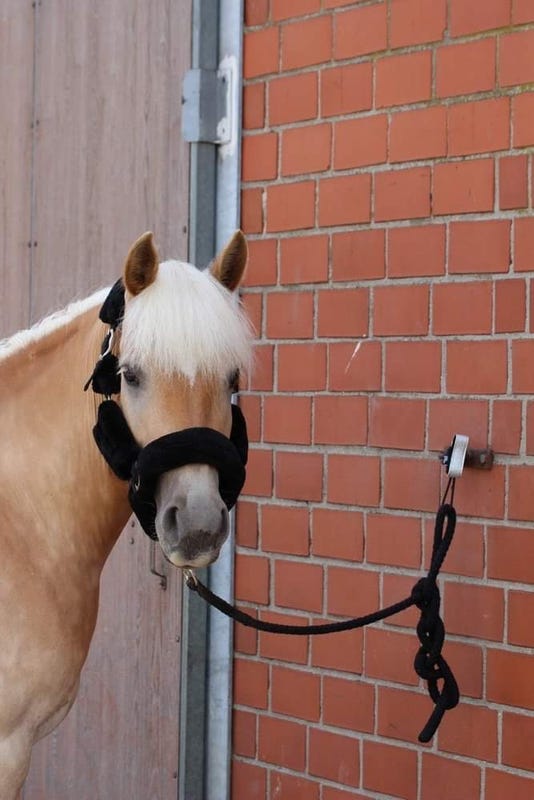 @coconutkiss_blog
"I also have a Panikschlaufe and don't want to miss it anymore"
@lauranettelbeck
"She can easily invent, the Neele"
@haflinger.steevy
"I also have a Panikschlaufe and think it's great."
Simply safer tying
"It happened to me - only luckily it "only" got my hand. Now I only tie up with the Panikschlaufe, they are tight as long as the horse is wriggling, but you can easily loosen them with any pressure and if the horse really panic, it loosens by itself, so that there are no injuries on either side . Best investment ever, really! "
@Julia Sick
@scoobys_leben
"Thanks to the Panikschlaufe, Scooby is always securely attached. Scooby is a candidate who likes to throw himself in the halter anyway. So I don't have to worry anymore that he could get injured. "
@Equus.domesticus
"It works great, even faster than my security knot."
@tanjahe_
"I'm thrilled, I can only recommend it!"
"Since I have the Panikschlaufe and we have a tie-up place again, I can also leave the dwarf standing for a moment and e.g. sweeping away the dirt or putting the cleaning things together. Of course that does not mean that she stands alone for minutes!
I used to finish Lind and bring it back to the stable, then I did all the rest.
I attached the Panikschlaufe to the halter directly. Now I am much more relaxed when it comes to tying it up - on the one hand, I know that it will hold, but also that I can open it quickly and easily in an emergency.
The mood is carried over to Lind and she is much calmer, too.
Today we stood at the other cleaning area for the first time. The voices and noises that came from the adjoining hall and that she couldn't see unsettled Lind. She was restless, but has not improved purely. Had she really panicked, I would have simply opened the loop before she seriously injured herself.
Horses are and will remain escape animals and you can never be sure that they will stay calm no matter how much serenity training you do.
Thanks Neele for the loop. "

"Today I really needed the Panikschlaufe.
While we were loading the second horse and Lind was properly tied up, there was a blow. We went straight to her, of course, because the dwarf had a knot in his front leg.
The rope was short enough that nothing should have happened. Unfortunately, she still managed to hang her hoof in there. So there is no way to loosen the rope quickly - if it hadn't been for the Panikschlaufe on the halter.
So one grip in the loop and the hoof was back on the ground. "
@Lind – ein deutsches Isländerpony
@funkel_stern_2017
"Never again without it! The Panikschlaufe should definitely not be missing! "
@rappenliebehoch2
"I think [the Panikschlaufe] is standard in every cleaning box"

"At the moment I tie both of them normally, but always with the Panikschlaufe, in front of that with a safety ring [from a large equestrian shop]. But that broke quickly. "
@flyinghorsez
"Without the Panikschlaufe, I would not have been able to tie Fernando for a while. He tore a lot of ropes and it even went so far that a panic hook burst in my hand and pieces of metal had to be cut out of my hand. Fortunately, thanks to the Panikschlaufe, that can no longer happen. "

"Really a great product with a great implementation and a lot safer than the panic hook"
"Neele, thanks for your awesome product"